Every chapter of Scripture
summarised in 140 characters or less
November 8th marked ten years since I completed the Bible Summary project. I'll have more to say about that at some point soon, but I've just published a significant update to the website, so that first...
I've been working on this new version of the website for ages. These things never seem to get finished. There's still quite a bit I need to improve and fix, but the old website had got so broken that this beta version is now a considerable improvement. It's now mobile-friendly, the email and comments forms work again, and I've removed the broken Twitter login.

2 comments
Congratulations to Bible Summary commenter Carole who has just completed her own three-and-a-half year journey reading through the whole Bible, and commenting on every single chapter here on the Bible Summary website!
One of my main reasons for publishing my journey online was the hope that I would inspire others to read the whole Bible. Quite a number of people have got in touch to say that they've done just that, but Carole is the first to post a comment every day as well. I'm really delighted about it.
To see Carole's comments, just click on any of the individual chapter summary links here on the Bible Summary website and scroll down to the comments section.
If you're reading this post, why not consider the same challenge? It doesn't take more than about five minutes to read a chapter of the Bible, and you could write a summary or a comment in five or ten more minutes to help you think about what you've read. That's ten or fifteen minutes a day for a genuinely life-changing process. You can do it!

6 comments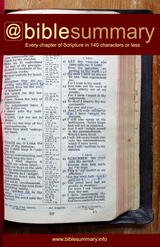 By popular request, a printed book version of the full set of summaries is now available on Amazon:
📖 Bible Summary: Every Chapter in 140 Characters or Less
All the summaries are here on the website, and you can get an edited selection of summaries along with lots more background information on each book of the Bible in my @BibleIntro book, but I still have regular emails asking for a hard copy book of all the summaries.
I put the book together using CreateSpace, and I'm really pleased with the end product. It's definitely useful having the whole project in book form on my desk.
Thanks, as always, for your interest in the project!

4 comments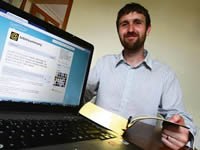 I summarised all 1,189 chapters of the Bible on Twitter - one tweet per chapter, one chapter per day for over three years.
Find out about the project here, you can buy the Bible Summary book on Kindle or in paperback, and feel free to get in contact if you have any comments or questions.

All the summaries in a paperback book or on Kindle.