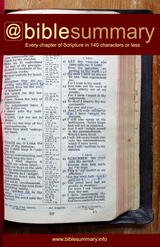 By popular request, a printed book version of the full set of summaries is now available on Amazon:
📖 Bible Summary: Every Chapter in 140 Characters or Less
All the summaries are here on the website, and you can get an edited selection of summaries along with lots more background information on each book of the Bible in my @BibleIntro book, but I still have regular emails asking for a hard copy book of all the summaries.
I put the book together using CreateSpace, and I'm really pleased with the end product. It's definitely useful having the whole project in book form on my desk.
Thanks, as always, for your interest in the project!