Hosea 2
summarised in 140 characters or less
"Your mother has been unfaithful. I will expose her lewdness. Now I will speak tenderly to her. I will betroth you to me forever."
Posted on 18 Dec 2012 to 26,682 followers, with 8 retweets.
Read Hosea 2 in full at Bible Gateway.
Comments
God uses the unfaithfulness of Gomer as a comparison to to those He has sent His son to die for.... no one is outside the love of God if they come to Him and believe.
Israel's "mother" has played a whore and God "will build a wall against her, so that she cannot find her paths." However he declares that in time the Lord and his steadfast love and mercy will be known.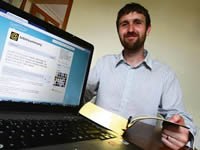 I summarised all 1,189 chapters of the Bible on Twitter - one tweet per chapter, one chapter per day for over three years.
These are the summaries of the book of Hosea.
They are written to help you understand and remember what's going on in the chapter, but they're no substitute for reading the Bible for yourself.
Find out about the project here, you can buy the Bible Summary book on Kindle or in paperback, and feel free to get in contact if you have any comments or questions.

All the summaries in a paperback book or on Kindle.