Genesis 48
summarised in 140 characters or less
Jacob became ill, so Joseph took his sons to see him. Jacob blessed Joseph's sons as his own, putting Ephraim ahead of Manasseh.
Posted on 24 Sep 2010 to 15,121 followers, with 19 retweets.
Read Genesis 48 in full at Bible Gateway.
Comments
Your summary's of the bible are GRAET but I think you should make them a little longer. I mean, I know you probably think its cool that you did them in 140 characters or less but it doesn't give a lot of detail and everything's not mentioned in them.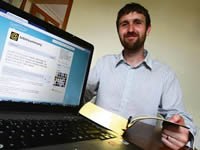 I summarised all 1,189 chapters of the Bible on Twitter - one tweet per chapter, one chapter per day for over three years.
These are the summaries of the book of Genesis.
They are written to help you understand and remember what's going on in the chapter, but they're no substitute for reading the Bible for yourself.
Find out about the project here, you can buy the Bible Summary book on Kindle or in paperback, and feel free to get in contact if you have any comments or questions.

All the summaries in a paperback book or on Kindle.