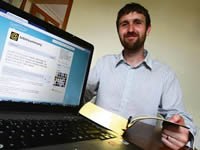 Every chapter of the Bible in 140 characters or less.
I summarised the Bible on Twitter between Aug 2010 and Nov 2013 - one tweet per chapter, one chapter per day.
The @biblesummary account peaked at over 30,000 followers, and was featured in the news all over the world.
Find out about the project here, or feel free to get in contact.

Now available in Paperback and on Kindle
2 Samuel 17
(in 140 characters or less)
Ahithophel wanted to pursue David, but Hushai advised gathering Israel. Absalom listened to Hushai. Hushai sent a warning to David.

Buy the Bible Summary book
All 1,189 summaries now available in paperback and on Kindle.
Comments